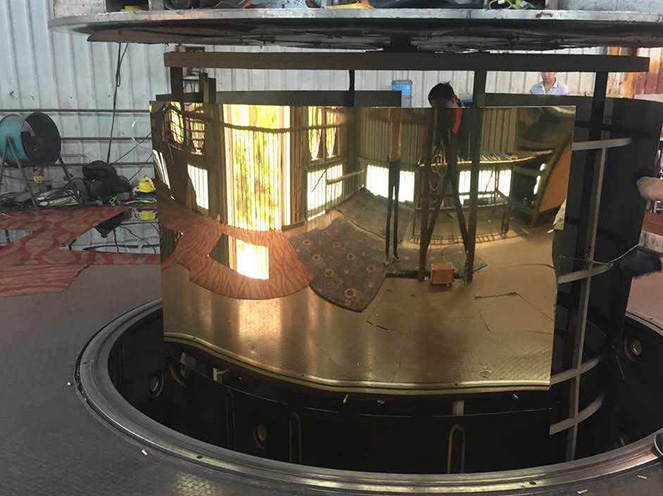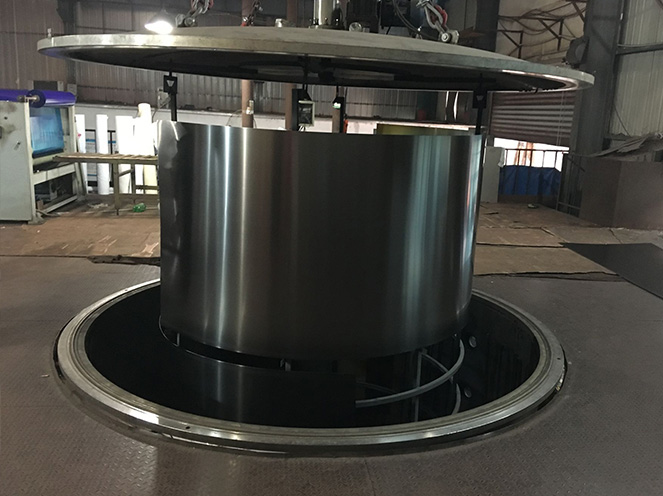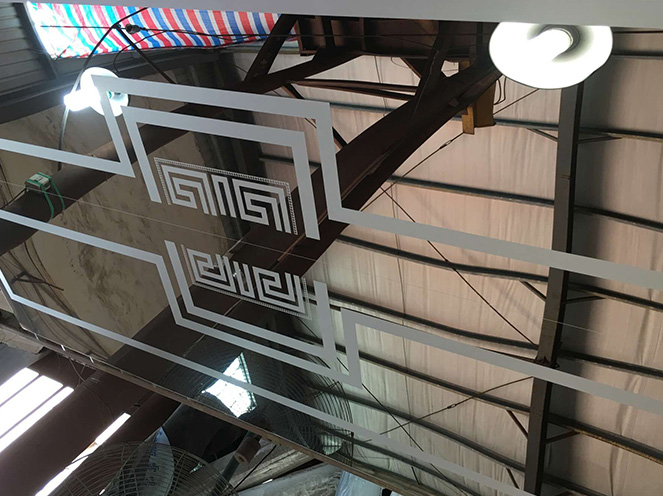 PVD Coating Color Stainless Steel Plate
Decorative stainless steel sheet is a very good decorative material. In the arts and craft industry, the colorful stainless steel is combined with etching and dot method can be used to produce 3D relief murals and hanging screens that will never fade.
Our company services:Welding,Polishing,Lettering,Slitting,Laser Cutting,Surface Treatment
Product Details
Color stainless steel decorative is a very good adornment material, use it to decorate all show elegant quality, color stainless steel plate at the same time with strong corrosion resistance, high mechanical properties, color coat over a long do not fade, colour and lustre with different illumination Angle can produce tonal change wait for a characteristic, color stainless steel plate and color coat can the temperature of 200 ℃, Salt spray corrosion resistance is better than general stainless steel, color stainless steel plate wear resistance and scratch resistance is equivalent to the performance of gold foil coating. Color stainless steel plate when bending 90℃, color layer will not be damaged, can be used for hall wall panels, ceilings, elevator car panels, car boards, architectural decoration, signs and other decoration, color stainless steel plate is generally used in the decoration of the wall.Common stainless steel color coating plate is 304 stainless steel, 304L stainless steel, 430 stianless steel .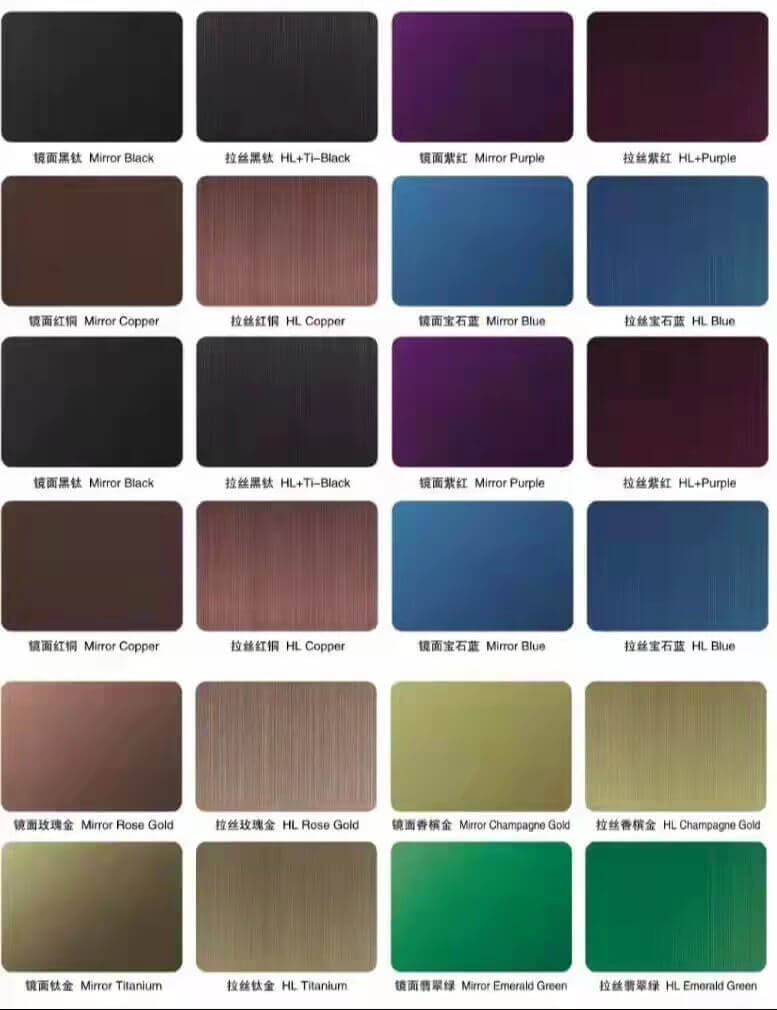 PVD Coating Color Stainless Steel Plate
Material
Stainless Steel 201,304,316L
Technique
Cold Rolled/ Hot Rolled
Surface
2B, No.1, BA,2BA,NO.4,HL brushed,8K Mirror, checkered, etched, embossing etc
Color
Natural color, can be titanium gold color, titanium black color, rose red, champagne gold color,
sapphire blue, bronzed color, coffee color, purple red, green, emerald green, copper red
color and arti-finger print, etc.
Usual thickness
0.4mm-2.0mm or customize thickness
Normal Lergth
1220*2440mm,1220*3050mm,1220*2440mm
Service
Sample customization, according drawing to process, free design
MOQ
5Ton
Application
Lit, screen,display case, cooker, kitchenequipmert, toilet appliarce withcolor stainless steel
Delivery time
Within8 days after confirmig the order
Paymert term
30% TT as deposit and the balarce paid against copy of B/L
Package
PVC+ waterproof paper + strong sea-worthy wooden package
Advartages
Showing the splendor of your quality, wear-resistart as well , strong corrosionresistance and
decorative effect
Stainless Steel Plate Film Service
1
Provide the whole volume ofwire drawing film, mirror film, plating film.
2
Free film for 0.07mm with black and white film;Laser film is ok for us;Customized customer
LOGO film
3
nkjet Service (the LOGO with customer need be sprayed on the flm for free with the Quantity
is one corfainer)
Our Machines
The production capacity of our fatory is about 2000tons per year .We have many machines to meet all customers requirements.For example:brush,cutting,slitting ,embossed,etching,mirror,PVD color,Water plating,Laser.
Products Usage
In the arts and crafts, the combination of color stainless steel and printing, can use etching and grinding and mesh point method with the process, the production of fade less three-dimensional relief fresco, hanging screen. Additional, make household electric appliance, cooker, kitchen equipment, toilet appliance with color stainless steel, will be loved by consumer. Stainless steel decorative plate is a very good decorative material, with its decoration to show the elegant quality.
Customers feedbacks
We win lots of stable customers for our good quality and nice service,hope you will become our one of good customers.Contact us freely!
<

Send an enquiry
Send us your questions or inquiries via the form below and we will get back to you within 24 hours.